The opening hours appear on your website's homepage and Map and Contact page.
To edit the opening hours, click Settings--->General Information page that gathers all of the information related to your restaurant.

Scroll down to the Hours section and click Edit on the right. On the right of each day, choose the hours from the dropdown list.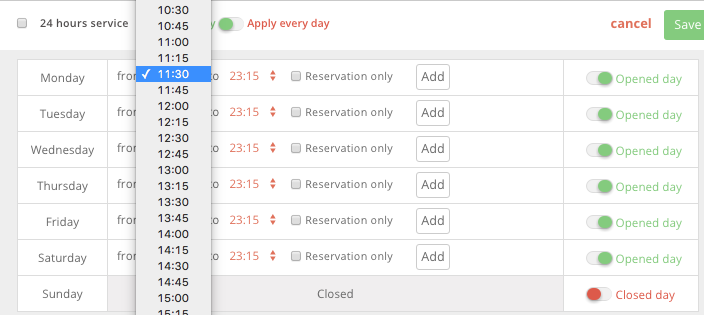 For your information, you can create two entries for the same day with different times to indicate that your business hours include a break and that there are two services (for instance lunch and dinner). To do so, click Add and enter the hours of the second shift.
To indicate the closed days, switch off the green button on the right.

Make sure to save the changes by clicking Edit on the right.
Please note that the opening hours are different from the booking hours!
Also, for your information, the hours you'll edit on this part of your dashboard will not modify the hours displayed on your website if it's not a Zenchef website of mobile site.
CHANGE YOUR OPENING HOURS HERE