You can change your payment details from your Zenchef dashboard, by clicking the name of your restaurant on the top right and Billing in the drop-down menu. Then, click Add a new payment method.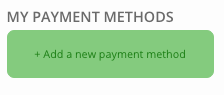 Enter your card information and Save. 
If your information details are already entered, you can change them by removing the existing payment method and by adding a new one.