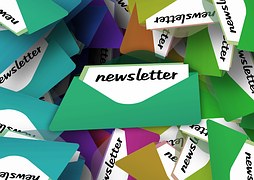 The importance of the Subject line 
The subject line is the most important part of the mail so you need to make it catchy, appealing, relevant, creative. You need to give your recipients a reason to open the email.
Also, use the most important words in the beginning of the subject line because the majority of email subscribers read their emails on mobile phones, and the preview of the subject line is even shorter.
Choose the images carefully
A picture is worth a thousand words so when it comes to capture your recipients' attention, the picture is more powerful than texts and it's faster to digest. 
However, make sure you produce high quality content and avoid blurry, dark images, otherwise, you'll loose your credibility.
If you are looking for high quality pictures, check out these free online ressources : Unsplash, Tookapic, Freeimages...
Poor grammar, poor punctuation, spelling errors forbidden!  
Well it seems obvious but you won't believe the number of mistakes spotted in various emails on a regular basis! Do not forget to read your email again and again to make sure there's no error. Otherwise, you will fail to make a good impression on the audience.
No need to write a long text! Be short and go straight to the point! People are busy, people don't have time! So they need to be able to grab the information at first glance.
Stay faithful to yourself
Use the same tone, stick to your style! If you usually use a casual and light tone, don't start using a formal one! 
Tip : the aim is to reach and connect with your recipients. So, to engage them, the ideal tone might be a friendly, natural language. 
Choose a well-crafted signature and stick to it: " the restaurant team ", " your devoted team ".
You can segment your customers and divide them into lists. You can also create a VIP list and send them exclusive offers, but then, do not forget to mention that they receive this email because they are VIPs. It's flattering and gratifying. 
 Inspiration is everywhere 
Do not hesitate to subscribe to your peers' newsletters to get inspiration and ideas. You won't be disappointed! 
Before sending your newsletters to your customers, test it ! Send it to yourself (you can do it from your Zenchef interface) to make sure it's perfect, to make sure the image displays correctly and there's no mistake. 
People today are overwhelmed by emails, our inboxes are full ! If you don't want people to unsubscribe from your newsletters, do not send many of them. One per month would be ideal! Also, only communicate when you have valuable information.