To manage your shifts, go to the Settings section in the upper right of your Zenchef dashboard and click Services.
If you are planning to open bookings for a specific shift or if you are planning specific shifts with particular hours for certain dates or for a set period of time, you need to create it by clicking Add an exception, beneath the services table. 

A window opens up: enter the date, choose the service you would like to amend, enter the number of covers, and the new hours of the service that is going to be different from the others. 
There are two options:
You can change the shift's hours for one date in particular
For instance, you are planning to open the restaurant on Sunday February 14, for Dinner (and you are usually closed). Click Create an exception, select °For One day, enter the date, select the service, choose the hours an save by clicking Create an exception.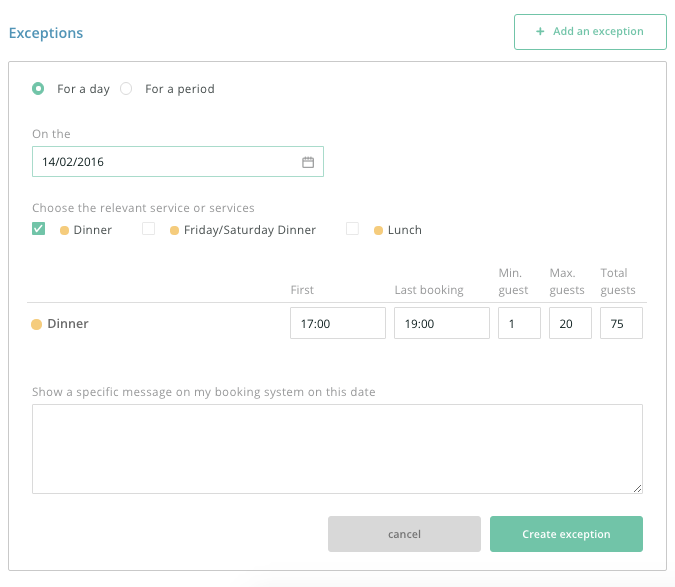 It's also possible to add a message for the customers to see when they click the date!
You can also amend a shift for a set period of time.
Example: For instance, if during July and August 2016, you plan a 6PM-12PM evening service on Friday and Saturday (while you are usually open from 7PM-10.30 PM on Friday and Saturday), select °For a period, choose a start date, an end date (in our example, July 1 and August 31 ), and replace the usual hours 7PM to 10h30 PM by the new hours. Don't forget to save!